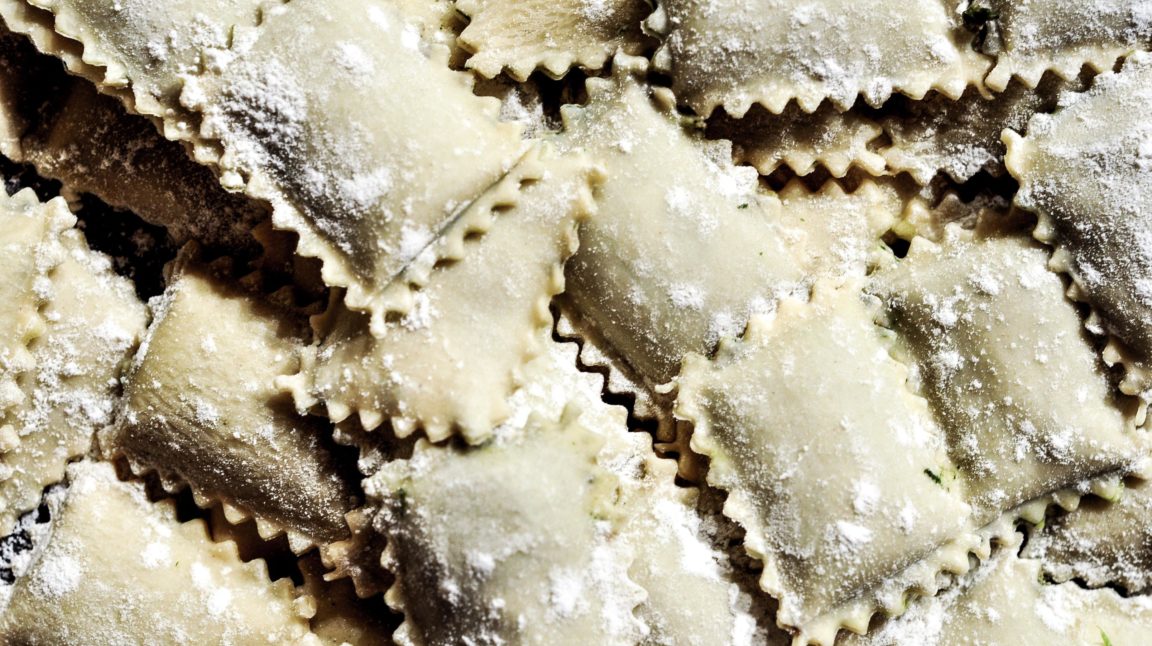 A Taste of Italy
26th May 2020
Curious Cooks with Richard Knights
A Taste of Italy
Tuesday 26th May at 5pm
Travel to Italy with Byfords and create these two delicious pasta dishes, bringing a taste of Italy to your home!
In our next instalment of Virtual Curious Cooks, Richard Knights will take you through two easy to follow recipes, step-by-step so you can cook along with him. Recreate a rich goats cheese, basil & pine nut ravioli or a sweet cannoli - deliziosa! Richard will be answering your questions live during the cook along and check the recipes below to try yourself...
The best part is, it's all FREE
Book your place on the interactive cook-along experience or tune in to our Facebook Live on the day.
Goats cheese, basil & pine nut ravioli
Ingredients:
For the pasta
300g '00' pasta flour
3 large eggs
Fine semolina
1 egg (beaten, for wash)
For the filling
300g goats cheese
½ bunch of Basil (shredded if you would like)
2 cloves garlic
25g pine nuts (toasted)
1 egg yolk
salt & pepper
Method:
Make the pasta dough first. Pour the flour and a pinch of salt in a food processor and crack in the eggs.
Blend until mixture forms sticky-looking crumb, similar to plasticine.
Turn the mixture out onto a lightly floured surface and bring together to form a firm dough.
Knead for 5 mins until the dough feels smooth, wrap in cling film and chill for 30 mins.
For the filling, place the garlic and pine nuts in the blender and blend until well minced. Then add the basil and blend again
Add the goats cheese and blend softer, then add the egg yolk, season and blend again.
To make the ravioli, cut the pasta into quarters, then roll out each piece using a pasta machine (if you don't have a machine, use a heavy rolling pin to roll the dough as thinly as possible).
Dust with semolina as you go and move it down a notch onto a thinner setting every second roll. Continue until you get to the penultimate setting. If you like your pasta very thin and delicate, you can go for the thinnest setting.
Take one sheet and lightly mark out the bases of your ravioli- do not cut.
Place a spoonful of your filling in the centre of the marked ravioli and paint a little eggwa sh around the filling.
Place another sheet of pasta over the top of the original and push edges around each filling.
Take your cutter and cut out your ravioli, push a smaller cutter over the top of the ravioli to highlight the filling.
Place on a tray with semolina and continue to make all your ravioli.
To cook, bring a pan of water to the boil and drizzle a little olive oil in the pan.
Bring to a simmer and drop in your ravioli. Don't over fill the pan and poach the ravioli for 2 minutes, then drain and serve.
Cannoli
Ingredients:
For the shells
250g plain flour, plus more to dust
100g caster sugar
1 tsp salt
1/2 tsp cinnamon
4 tbsp cold butter (cut into cubes)
6 tbsp white wine
1 large egg
1 egg white
Vegetable oil
For the filling
450g ricotta
115g mascarpone cheese
65g icing sugar
240ml double cream
1 tsp vanilla extract
1 tsp orange zest
1/4 tsp salt
Method:
To make the filling, drain ricotta by placing in a fine sieve in the fridge for an hour.
Whisk the double cream and half of the icing sugar until stiff peaks form.
Mix the ricotta, mascarpone, remaining icing sugar, vanilla extract, orange zest and salt.
Fold in the whipped cream, line a tray with clingfilm and spread the mixture over the tray- chill for 20-30minutes.
To make the cannoli shells, mix together flour, sugar, salt, and cinnamon in a large bowl.
Mix butter into flour mixture with your hands or pastry cutter until pea-sized.
Add wine and egg and mix until a dough forms.
Knead a few times in bowl to help the dough come together.
Pat into a flat circle, then wrap in cling film and refrigerate at least 1 hour or overnight.
On a lightly floured surface, divide the dough in half. Roll one half out to just under 1/2cm thick.
Use a 10cm circle cookie cutter to cut out dough.
Repeat with remaining dough and re-roll scraps to cut a few extra circles.
Wrap dough around cannoli moulds (if you don't have these a small metal rod will work) and brush egg whites on the edges where the cannoli will join and seal together.
Cook in a large pot over medium heat, heat about 5cm of oil to 180°C. Working in batches, add cannoli moulds to oil and fry until golden, turning occasionally, for about 4 minutes. Remove from oil and place on a paper towel-lined tray/plate to let cool slightly.
When cool enough to handle or using a kitchen towel to hold, gently remove by twisting shells off of the moulds. Make sure centre of each cannoli is completely cold before piping.
Place filling in a pastry bag fitted with an open star tip. Pipe filling into shells, decorate the ends however you wish and serve.