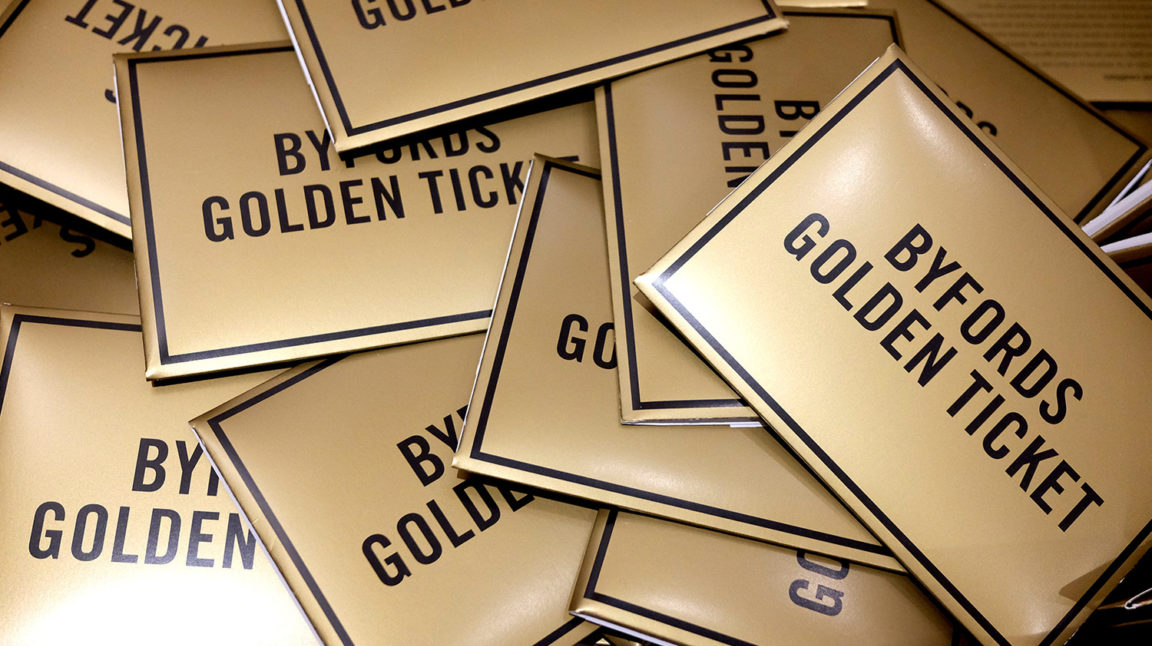 Golden Ticket Giveaway
Win one of 5,000 prizes!
Golden tickets are now being redeemed, be sure to book a table to claim your prize
The Byfords Golden Ticket giveaway is now on! Dine with us between now and the end of December 2018, then return again between 2 January and 29 March 29, 2019 to win one of 13 amazing prizes. From overnight stays to a year's supply of flapjack. Simply spend over £25 for your chance to win a golden ticket. Please note that golden tickets are given out at random.
PRIZE LIST
An overnight stay at Byfords x 50*
A years supply of flapjack x 350**
A free main course x 750
Bottomless Prosecco for two during your meal x 100
A free Byfords pizza - 750
Afternoon tea for two x 250***
A free bottle of house white, red or rosé wine for your table x 500
A free gelato sundae x 650
Free dessert for two people x 400
A Byfords sketch range mug x 50
A Byfords sketch range apron x 50
A box of four cakes from the store x 500
A large hot drink of your choice x 500
HOW TO ENTER
1. Dine in Byfords café between now and end of December and spend over £25

2. After dining you'll be given a Byfords Golden Ticket. DO NOT OPEN THIS.
3. Bring your Byfords Golden Ticket to Byfords Cafe between 2 January - 29 March 2019 and open it before ordering
4. Claim your prize!
Terms & conditions
Golden tickets can be redeemed on a return visit to Byfords Cafe 2 January – 29 March 2019
Up to four golden tickets can be redeemed against one table reservation
Golden tickets can be redeemed at any time of day, Byfords café only
Golden tickets must be opened in front of a staff member before the order is placed
Any tickets that have been tampered with prior to your visit will be invalid
Golden tickets can only be used once and no alternative will be offered to the prize stated
Golden tickets cannot be exchanged for the equivalent cash value
Golden tickets and Norfolk Passport can be used within the same transaction, however, no discount will be given on prize items
*Sunday-Thursday night only, between Jan – March 2019 (excludes February half-term February 15 – 25)
**One regular piece of flapjack every day for 365 days. Missed days will not be recompensed. Customer must visit Byfords each day to collect the prize.
***Redeemable on the day or taken in a voucher format (valid for 12 months)