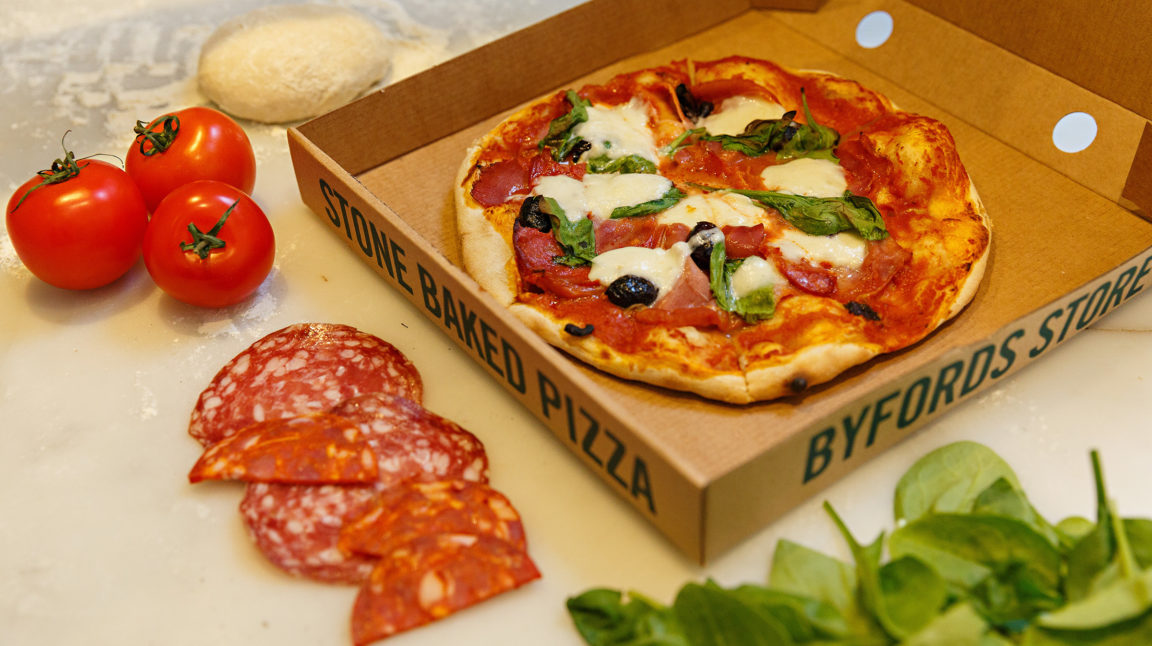 Store
Byfords Store is open!
Enjoy your favourite goodies such as fresh scones, stone-baked pizzas and of course Byfords famous cake selection! See full range below.
Our authentic, stone-baked pizzas are now available to pre-order online for collection.
Open Daily
Sun - Thur 9am - 5pm
Fri - Sun 9am - 7pm
How to order takeaway:
Click the button above to go through to our ordering system
Select your chosen date and time to collect
Fill your basket with delicious Byfords items
Click 'checkout' and your order will be processed
Payment will be payable upon collection and Norfolk Passport discount will be accepted then
Coffee
Tea &
Hot Chocolate
×
Serving tea, coffee and hot chocolate daily.
Bring your own cup
Doing our bit for the environment and for you! Bring your own cup in the Store and receive a discount each time we fill it up!
×
Salads for a light nutritious lunch. Sandwiches to fill you up and keep you going. Made to order just for you.
×
From your morning sausage and bacon baguette through to a fully loaded hog roast baguette with all the trimmings, Byfords store welcomes the hot counter as part of its new offering. Also enjoy loaded jacket potatoes or ditch the bread and take away a 'roast in a box'.
Served daily – when it's gone, it's gone!
×
Artisan breads for tearing, slicing, toasting or dipping. Pastries for a continental snack. Scones for high tea or just as a treat! Made fresh each day.
×
Stone baked and prepared to order. Perfect for sharing with loved ones.
×
Who can resist our famous pasties made by hand at the back of the Store?! Guaranteed to make you feel all toasty inside you can have warm, ambient or try our 'take and bake' ready for you to bake at home.
×
Lovingly hand-made cakes to tickle your fancy. Indulgent SPONGE cakes for a special occasion or self gratification. Or for days that end in "Y"
×
Freshly made blends using natural ingredients and no added sugar. Perfect for giving you an extra boost
×
Shop for souvenirs and gifts in store featuring our iconic Byfords sketch design by artist and designer Andrew Ruffhead
×
Pop a picnic in your car and hit the road! Dine alfresco anywhere you fancy with a delicious Byfords pack up - just call us on 01263 711400 to pre order. Also, a Byfords hamper makes the ideal gift, full with delicious goodies!
×
Homemade convenience made right here at Byfords! Perfect freezer fillers for a wholesome meal at home after a busy day parading around North Norfolk.
×
Made by us, just up the road in Sheringham.
Great ingredients for quality, less air for smoothness and lower in fat so you can have more. Visit our own dedicated Gelato window daily, whatever the weather, you will find at least six flavours up for grabs!